Olinder & Westerberg AB Products for blind and mobility disabled
JOYSTICK MOUSE
Mouse substitute
Many computer programs, e.g. drawing-programs, demand the use of a mouse.
Many users have difficulties in handling a standard mouse.
The joystick mouse is used instead of a standard mouse, but demands less motor ability from the user.


Compare JOYSTICK MOUSE special



Functions:
The joystick is handled like the wheelchair joystick.
Maximum speed is steplessly adjustable.
The mouse-keys can be used in two ways,- with or without toggling.
External switches are optional.
To facilitate double-clicks, the joystick mouse has an automatic double-click-key.
The 2 buttons on an ordinary mouse are replaced by 5 buttons on a joystick mouse.

The buttons on a joystick mouse have the following functions: "Single click", "Toggle hold/release", "Right mouse button" and "Double click"

As an option, one of the two "double click"-buttons can be replaced by a scroll button. With this button activated, the joystick acts like the wheel on a scroll mouse.
The joystick-mouse fits any IBM-compatible computer, and is connected to the computer through the serial port or the mouse-port.


On the back of the Joystick mouse there are sockets for connection of one PS/2 and one serial standard mouse. The external mouse and the joystick mouse can be used simultaneously.

The joystick mouse is provided with sockets for external switches. The 5 buttons on the joystick mouse can be replaced by auxiliary switches.

JOYSTICK MOUSE combi sloped case
a combination of mouse substitute and guiding device for THOT.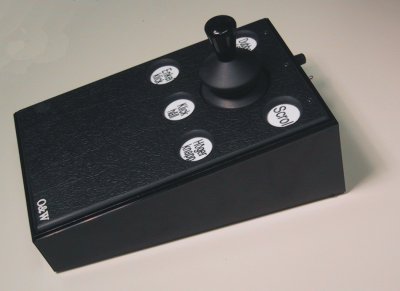 Joystick mouse combi has the same functions as the joystick mouse in sloped case

The combi model can also function as a breaking guiding device . The same joystick can guide a mouse and operate a THOT. The change is made by pressing a key .