Olinder & Westerberg AB Products for blind and mobility disabled
Switches instead of keyboard-keys and mouse functions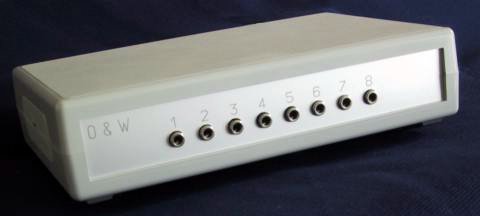 The "EASY-BOX" is a unity which you connect between the computer and the standard keyboard. Using a special cable, you can connect the "EASY-BOX" to the computer's serial port as well.

To the EASY-BOX from 1 to 8 single-function-switches can be connected and programmed to function as keyboard-keys or mouse-keys. The user can program single characters, phrases, mouse-key-pressings or mouse-movements on these switches.

Programmed functions can be moved between a hard disk and the EASY-BOX.
A hard disk can contain various sets of functions.

No additional programs are needed to get the EASY-BOX functioning. Hence, the almost inevitable supply of malfunctions offered by such additional programs, e.g. by the "one-finger special program" can simply NOT occur.
Many special programs in the pedagogical field do use only a few keys. The EASY-BOX brings these programs into the reach of the motion disabled people

The EASY-BOX fits any IBM-compatible computer.