Olinder & Westerberg AB Products for blind and mobility disabled
this page was changed 2008-10-04
HERMES 40 characters Braille display with an integrated Braille keyboard

to products
HERMES
Braille display with a Braille keyboard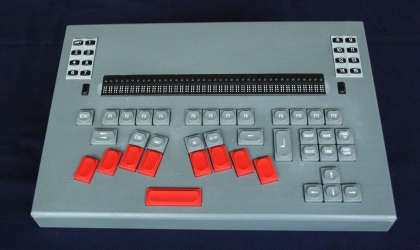 The HERMES is connected to the keyboard input of the computer and to its serial input port. The ordinary keyboard may be connected simultaneously.
On the Braille keyboard there are 8 oblique-angled Braille-keys and one space-bar. These few keys replace easily the entire ordinary keyboard. To some special computer functions, like F1 - F12, Ins, Home, Arrow-keys, and so on, it is easier with individual keys. That is why the keyboard for these functions is supplied with 30 ordinary keys as well,.

The Braille display is a 40 characters piezo-electronic Braille display with cursor routing keys.
The HERMES is turnable. The turned position gives the user a proper support for the hand. At reading of long text. this position is preferable.

The HERMES uses the program JAWS® to scan the screen. The 16 extra keys of the the HERMES are defined in JAWS.

The HERMES suits any IBM-compatible computer.



top of page

to products